CHURCH OF SCIENTOLOGY

BASEL
The Ideal Org provides for parishioners and communities in the tri-national region where Switzerland, Germany and France intersect.
Videos
Watch a Video Tour
Watch the Grand Opening
PHOTOS
WEBSITE

Learn more about the Church of Scientology Basel, their Calendar of Events, Sunday Service, Bookstore, and more. All are welcome. Go to www.scientology-basel.org
Visit Website
MAP
LOCATION
Address:
Burgfelderstrasse 215
Basel, 4055
Switzerland

Phone: 061-307-27-27
SCHEDULE
Hours
Open Every Day

GRAND OPENING EVENT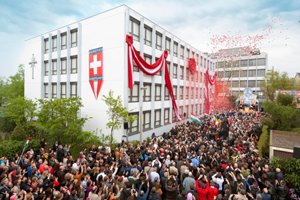 THE RIBBON FALLS ON A NEW IDEAL ORG WITH A DISTINCTIVE SWISS CHARACTER
Switzerland is a nation long renowned for its exquisite craftsmanship of everything from watches to pocketknives and culinary delicacies that remain the envy of the world.
And consistent with that uncompromising emphasis on quality, the first Scientology Ideal Organization (Org) in that European nation's dazzling history opened its doors to a grateful public on Saturday in an historic and dignitary-studded dedication ceremony in the picturesque Swiss city of Basel.