CHURCH OF SCIENTOLOGY

HARLEM
The Harlem Church serves a growing congregation from its home on the neighborhood's main thoroughfare.
Videos
PHOTOS
WEBSITE
Learn more about the Church of Scientology Harlem, their Calendar of Events, Sunday Service, Bookstore, and more. All are welcome. Go to www.scientology-harlem.org/
Visit Website
MAP
LOCATION
Address:
220 East 125th Street
New York, NY 10035
United States

Phone: 212-828-1825
SCHEDULE
Hours
Open Every Day

GRAND OPENING EVENT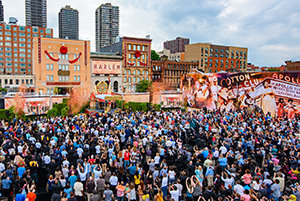 A NEW ROSE BLOOMS: IDEAL ORG AND COMMUNITY CENTER OPENS IN HARLEM
Harlem's new Ideal Scientology Church and Community Center is called a "center of hope on 125th Street" in stirring grand opening ceremony held Sunday July 31, 2016.