RELIGIOUS GROUP

"CHURCH OF SCIENTOLOGY MOSCOW"
Located near Red Square, the Ideal Org provides for a burgeoning Scientology community across the Russian Federation.
Videos
Watch a Video Tour
Watch the Grand Opening
PHOTOS
WEBSITE
Learn more about the Religious group "Church of Scientology Moscow", their Calendar of Events, Sunday Service, Bookstore, and more. All are welcome. Go to www.scientology-moscow.org
Visit Website
MAP
LOCATION
Address:
ул. Таганская, 9
Москва, 109147
Russia

Phone: +7 (499) 608-00-13
SCHEDULE
Hours
Open Every Day

GRAND OPENING EVENT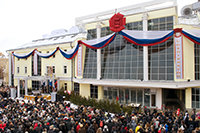 CHURCH OF SCIENTOLOGY OF MOSCOW – A BEACON FOR RELIGIOUS FREEDOM AND HUMAN RIGHTS
Thousands gathered in Moscow to open the first major Church to open in the Russian Federation. The building stands in the city's central Garden Ring, just a mile from Red Square.