CHURCH OF SCIENTOLOGY

SAN DIEGO
The new San Diego Church stands on the downtown corridor of Fourth Avenue, just blocks from City Hall. Located in the thriving urban core, the 49,000-square-foot facility welcomes all from San Diego and beyond.
PHOTOS
WEBSITE

Learn more about the Church of Scientology San Diego, their Calendar of Events, Sunday Service, Bookstore, and more. All are welcome. Go to www.scientology-sandiego.org
Visit Website
MAP
LOCATION
Address:
1330 Fourth Ave.
San Diego, CA 92101
United States

Phone: 619-239-2091
SCHEDULE
Hours
Open Every Day

GRAND OPENING EVENT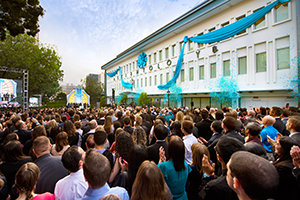 CALIFORNIA DREAMING BECOMES REALITY AS SAN DIEGO OPENS NEW CHURCH OF SCIENTOLOGY
Inauguration of Ideal Church hailed as moment for the American Dream in city Scientology Founder L. Ron Hubbard called home.