CHURCH OF SCIENTOLOGY

BUFFALO
The Ideal Org serves Upstate New York from its restored home in the Allentown Historic district.
Videos
Watch a Video Tour
Watch the Grand Opening
PHOTOS
WEBSITE

Learn more about the Church of Scientology Buffalo, their Calendar of Events, Sunday Service, Bookstore, and more. All are welcome. Go to www.scientology-buffalo.org
Visit Website
MAP
LOCATION
Address:
836 Main Street
Buffalo, NY 14202
United States

Phone: (716) 856-3910
SCHEDULE
Hours
Open Every Day

GRAND OPENING EVENT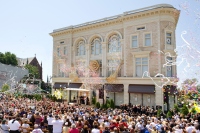 SCIENTOLOGISTS CUT THE RIBBON ON LANDMARK BUFFALO CHURCH
More than a thousand Buffalo Area Scientologists gathered on Saturday, June 30, to celebrate the rededication of the Church of Scientology Buffalo.