CHURCH OF SCIENTOLOGY

GREATER CINCINNATI
The Ideal Org extends services to parishioners and communities in Ohio, Kentucky and Indiana.
Videos
Watch a Video Tour
Watch the Grand Opening
PHOTOS
WEBSITE

Learn more about the Church of Scientology Greater Cincinnati, their Calendar of Events, Sunday Service, Bookstore, and more. All are welcome. Go to www.scientology-cincinnati.org
Visit Website
MAP
LOCATION
Address:
283 Main St.
Florence, KY 41042
United States

Phone: (859) 962-5080
SCHEDULE
Hours
Open Every Day

GRAND OPENING EVENT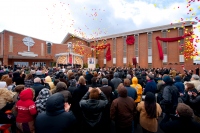 SCIENTOLOGY CHURCH OPENS DOORS TO A TRI-STATE WELCOME
The Church of Scientology Greater Cincinnati celebrated the opening of its expansive new home Saturday, February 25. The inauguration was attended by more than a thousand Scientologists and state, county and city officials.