CHURCH OF SCIENTOLOGY

LONDON
The Church serves one of the first Scientology congregations in the world from its home in the historic City of London.
Videos
Watch a Video Tour
Watch the Grand Opening
PHOTOS
WEBSITE
Learn more about the Church of Scientology London, their Calendar of Events, Sunday Service, Bookstore, and more. All are welcome. Go to www.scientology-london.org.uk
Visit Website
MAP
LOCATION
Address:
146 Queen Victoria Street
London, England EC4V 4BY
United Kingdom

Phone: +442072462700
SCHEDULE
Hours
Open Every Day

GRAND OPENING EVENT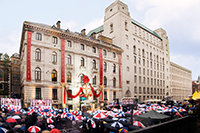 SCIENTOLOGY AT THE CENTER
OF THE ENGLISH-SPEAKING WORLD
The United Kingdom's Church of Scientology, standing on Queen Victoria Street in the cultural epicenter of London, drew more than 3,000 Scientologists, London citizens and dignitaries from every continent to its October 2006 opening. The dedication of the new Church by Mr. David Miscavige, Chairman of the Board of Religious Technology Center and ecclesiastical leader of the Scientology religion, marked the significance of the occasion.
Honored guests who participated in the dedication, each of whom had partnered with Scientologists in civic or humanitarian endeavors, included Commander Kevin Hurley, City of London Police; The Right Honorable Ian Lauder, City of London Alderman; and The Honorable Iftikhar Ayaz, United Nations permanent peace envoy and representative of the UN Human Rights Commission.