CHURCH OF SCIENTOLOGY

PHOENIX
The Phoenix Church serves the city distinguished as the birthplace of the Scientology religion.
Videos
Watch a Video Tour
Watch the Grand Opening
PHOTOS
WEBSITE

Learn more about the Church of Scientology Phoenix, their Calendar of Events, Sunday Service, Bookstore, and more. All are welcome. Go to www.scientology-phoenix.org
Visit Website
MAP
LOCATION
Address:
3845-3875 North 44th Street
Phoenix, AZ 85018
United States

Phone: (602) 954-1417
SCHEDULE
Hours
Open Every Day

GRAND OPENING EVENT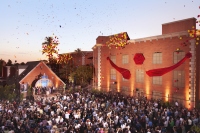 RIBBON FALLS ON IDEAL ORG IN THE BIRTHPLACE OF SCIENTOLOGY
Amid a burst of confetti and a flight of balloons, the ribbon was parted on the new Church of Scientology Ideal Organization of Phoenix on Saturday, June 23. More than 1,500 Scientologists, neighbors and dignitaries joined Church officials for the dedication ceremony.