CHURCH OF SCIENTOLOGY

QUÉBEC
From its home below Old Town Quebec, the Ideal Org serves parishioners throughout the province.
Videos
Watch a Video Tour
Watch the Grand Opening
PHOTOS
WEBSITE

Learn more about the Church of Scientology Québec, their Calendar of Events, Sunday Service, Bookstore, and more. All are welcome. Go to www.scientologie-quebec.org
Visit Website
MAP
LOCATION
Address:
665 rue St-Joseph Est
Québec, Québec G1K 3C1
Canada

Phone: 418-524-4615
SCHEDULE
Hours
Open Every Day

GRAND OPENING EVENT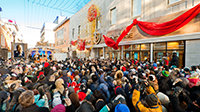 NEW CHURCH OF SCIENTOLOGY OPENS IN QUÉBEC CITY
Fifteen hundred Scientologists and their guests from across Canada and the United States packed the street in front of 665 rue Saint-Joseph in the heart of the Nouvo Saint-Roch district of Lower Québec City to attend the opening of the Church of Scientology of Québec/Eglise de Scientologie de Québec on January 30, 2010.