CHURCH OF SCIENTOLOGY

ROMA
From its home in the hills of Rome's Casalotti quarter, the Ideal Org extends services to central Italy.
Videos
Watch a Video Tour
Watch the Grand Opening
PHOTOS
WEBSITE

Learn more about the Church of Scientology Roma, their Calendar of Events, Sunday Service, Bookstore, and more. All are welcome. Go to www.scientology-roma.org
Visit Website
MAP
LOCATION
Address:
Via della Maglianella 375
Roma, 00166
Italy

Phone: 06 612 96 501
SCHEDULE
Hours
Open Every Day

GRAND OPENING EVENT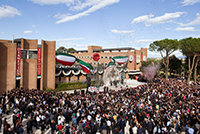 IN THE ETERNAL CITY, A NEW CHURCH OF SCIENTOLOGY
On October 24, 2009, the new Church of Scientology of Rome opened in the Casalotti di Boccea district of the Eternal City. More than 6,000 Scientologists and their guests came from across Italy and beyond to celebrate the dedication of this magnificent new Church in its 70,000-square-foot home on 28 acres of parkland.
The new Church marks the largest expansion to date for Scientology in its 30-year history in Italy and will serve parishioners of Central Italy and other regions of the Mediterranean.